The ancient identity will be revealed by the period of its orbit.
If it is near 12,813 years, it could be the Great Taurid the ancients called Ea/Seth/Ancient of Days.
if it is near 5,125 - 5,126 years, it could be the one they called Marduk, Zeus, Ares, the God of War.
If it is near 3,600 years, it is the remains of Destroyer/Nibiru/Eris -- most of which should have passed us since 1908.
A moon-sized object flew by in 1924, so Nibiru's little brother should have followed in about 1976.
(Wasn't the Moon struck with a meteor storm in 1975?)
The Ancient of Days is supposed to come from Virgo/Orion or Scorpio (or starting near one ends near the other).
The God of War (son of Ea) comes from the Northeast supposedly around the winter solstice.
Comet Ison (as in I-the-Son?) appears to be coming from Gemini, which will be in the northeast at that time.
Whatever it is, expect it to break up as Elenin did on perihelion, which could vary part of its trajectory a bit
as it turns to fly high above Earth December 28, 2013.
Crop circles indicate something more closely resembling the God of War arriving in summer 2014.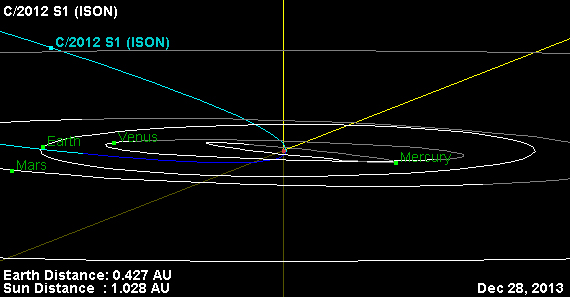 _________________


Truth is the key to eternal life.