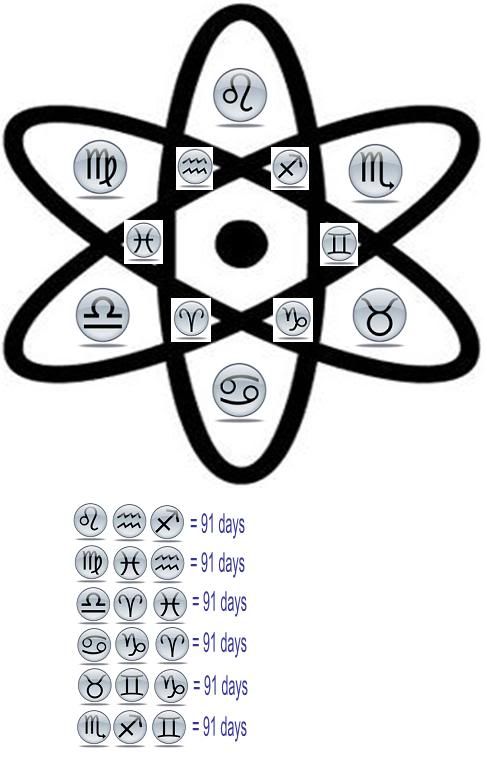 Leo July 23-Aug. 22 31 days
Aquarius Jan. 20-Feb. 18 30 days
Virgo Aug. 23-Sept. 22 31 days
Pisces Feb. 19-March 20 30 days
Libra Sept. 23-Oct. 23 31 days
Aries March 21-April 19 30 days
Cancer June 21-July 22 32 days
Capricorn Dec. 22-Jan. 19 29 days
Taurus April 20-May 20 31 days
Gemini May 21-June 20 31 days
Scorpio Oct. 23-Nov. 23 30 days
Sagittarius Nov. 22-Dec. 21 30 days
The 6 symbols in green that represent the Magen David, The Star of David, have a total of 180 days.
The 6 other (outer) symbols have a total of 186.
Ideally this would be balanced, and everything is grouped around multiples of "90", 90x1 on the points of 3 signs, and 90x2 on the groups of six inner and six outer signs. I decided to keep this simply, so I did not use 13 zodiac signs for simplicity and clarity, the Star of david represents a "balanced relationshp" or "justice/righteousness etc.".