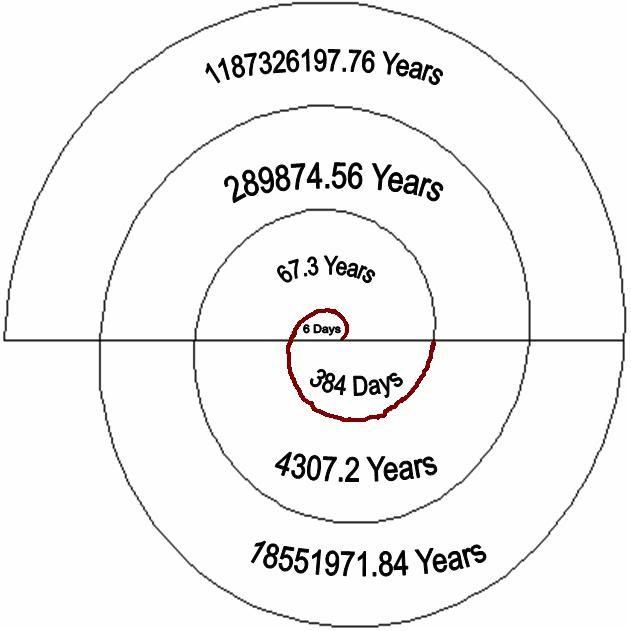 1187326197.76 Earth Years from December 21, 2012
- Earth became conducive to Life
18551971.84 Earth Years from December 21, 2012
- Life began in the Earth
289874.56 Earth Years from December 21, 2012
- Earth Gains the Moon, Mass Extinction. (asteroid belt is projected to have gained a definition around this period)
4307.2 Earth Years from December 21, 2012
- Sodom and Gomorrah Destroyed, Summeria contact with aliens, and that city involved is also destroyed afterwards.
67.3 Earth Years from December 21, 2012
- "Little Boy" , atom bomb is detonated in Hiroshima, Japan. "Fat Boy", atom bomb is detonated over Nagasaki, Japan.
384 Days and 6 Days from December 21, 2012
- COSMIC SHIFT BEGINS, after this 30 day period, the people and the earth remaining will be neutralized. (November 20, 2011 to December 20, 2011 --- December 21, 2011 the earth is neutralized, and the people remaining).
There are 6 Primary Points of NOVELTY Periods that define the entire temporal template
. The first two primary periods involve the "earth and the celestial environment". The second two primary periods involve "foreign entities interacting with the earth/man". The fifth primary period involves "mankind interacting with mankind". The sixth primary period, involves large amounts of death as a result of the "celestial environment", "foreign entities-aliens", and "humanity".
Theres a large number of lesser NOVELTY PERIODS, that resonate with each other, and there are periods within the larger novelty periods that resonate with the COSMIC SHIFT, but they are varied, and there is no correct answer, except to say, the
crucifician/resurrection/destruction of the temple of jerusalem in 70 A.D.
, most resonate with the COSMIC SHIFT.
Each of the sections of the "Archimedean Spiral", represent the same pattern that keeps repeating until it takes its final form this final form is called the
COSMIC SHIFT, AND IS DEFINED BY THE RED HIGHLIGHTED PORTION OF THE SPIRAL in the illustration above.